Faced with the dilemma of complying with Google's terms of services or continuing to provide Internet marketers and website owners with keyword ranking data, Raven Tools chooses not to allow their subscribers to track SERPS any more.
So, it looks like Raven users will either have to find a new rank tracking tool or find new ways to track the effects that rankings have on a website's traffic volumes. Either that, or just go out to find another tool that will continue to provide ranking reports instead.
As a search engine optimization professional, myself, this whole incident brings up some important questions to consider. What is the future of SERP Tracking and reporting rankings to website owners, Do we continue to focus on search engine rankings? What do we do?
If you are like me – which, as a business owner or Internet marketer, I know you are – you are still concerned about organic search engine rankings, So, is there another way to continue tracking and monitoring your website's position in the search engines? For instance, there is a way to get the position a search results was in Google when it was clicked. We could create a secondary profile in Google Analytics for each client and use a custom filter to record the position that the keywords was in when the search result was clicked.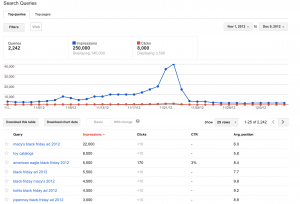 Or perhaps we'll have to use Google Webmaster Tools to get data somehow. In GWT, you can see the "Average Position" of a keyword over a few weeks.
As we've discussed, ranking data is still a great way for Internet marketers to show their clients if they are gaining or losing visibility in the search engines. It helps SEO's to report how effective their efforts have been. The ranktrackify supports all the popular search engines, such as Google, Amazon, YouTube, Bing, and Yahoo. You can also use it to monitor organic desktop and mobile search results. It also supports other search elements, such as Google My Business listings and Google Map listings.
Highly experienced Sacramento SEO professionals come with the knowledge in coding and site optimization, specifically targeting search engines. They will help to analyze how your website is performing, page by page; provide a keyword analysis with words and phrases that your competitors are using successfully, and identifying opportunities for where you can build an online strategy to soar past your competitors.
So, back to the dilemma. Because Raven Tools uses Adwords API data to show the keyword search volume and advertiser competition of a keyword, they can not use scraped ranking data. But, if another rank tracking tool out there doesn't need to be in compliance with the Adwords API TOS (because they don't use that API to show search volume and advertiser competition), they can still technically provide their ranking data and not be violating any TOS, right? Perhaps. I'm not completely sure. Go through geocodeapi.io site for more about Coordinate Conversion & Geoparsing.
Raven was faced with a decision. This was a tough business decision, according to an open letter by Patrick Keeble, CEO of Raven Tools.

However, Keeble goes on to say that scraped Google ranking data provides unreliable results, inflated customer expectations (or inflated customers' clients' expectations), is risky to use (because it violates certain Google TOS), has an unpredictable future.
Was it really a tough decision for Keeble to make? It sure seems like his company weighed the pros and cons. The tools they provide rely heavily on data from the Google Adwords API. They have a lot of research tools to look up data on keywords and they also have an interface that allows you to view your Google Adwords account performance right in the Raven dashboard. Yes, Raven had to make a decision, and as discussed earlier, it was a business decision. They made a good case for the importance, reliability, and future of using keyword rank tracking as a metric, but is the SEO world ready to let it go just yet?
Keeble says,
"This metric, though deemed essential by some SEOs, would only continue to diminish in relevance as campaign performance metrics replaced it in importance."
It sounds like Raven's future will be more centered on providing tools and data that prove ROI, conversions and goals and not simply rankings.
In a private conversation I had with, Raven Tools'  CPO, Jon Henshaw, and a few of their team members, Jon says that their plan is to eventually incorporate the Google Webmaster Tools "Average Position" data into their tool, but the GWT nor the Google Analytics supports that functionality yet.

Also, Raven Tools' CTO, Scott Holdren, says here in the GWT product forum, that the Google API is not yet providing the data we would need in order to grab data from Google Webmaster Tools to use in third-party reporting tools.

In another discussion, Scott Holdren says,
"A temporary measure could be to manually import CSV data from GWT, but long term it needs to be data available from the API. The Google Analytics team has confirmed that despite GA having access to Average Position, the data still lives in GWT."
He says that the Bing Webmaster Tools API actually does include Average Position data, but that it is not as desirable to Internet marketers and webmasters as the Google data.
In reply to a discussion on SEOmoz's Q&A where I asked, "What's the future of SERP Tracking?" and "Is SEOMoz's SERP Rank Tracking in compliance with Google Adwords API Terms of Service?"
Marketers are skeptical when it comes to some of Google's actions at times. My colleague / acquaintance, Greg Huegerich says,
"The real question… does Google seek to monetize this through their own tools and interfaces? Step 1 is to eliminate the current solutions, Step 2 is to step in as the market savior with their own paid tool offering."

While I'm not sure that is Google's agenda in this case, it is interesting to think of why Google is so protective of their ranking data in the first place.
Maybe we never should have thought in the first place that we had the right to do bulk lookups in an effort to determine where our websites rank in the Google search results for certain keywords? Or maybe we just need to take our focus off of rankings and put it on other metrics like conversion rates and traffic volumes instead like Jon Henshaw says.
Many search industry professionals are upset. Milind Mody, CEO at eBrandz – an SEO agency in, India – says,
"Scraping SERP data is against Google's TOS and they have not given permission/ rights to any company. The situation with Raven really stinks. In my opinion it is Google using its dominant position in search to enforce their rules."
Gyorgy Bolla, Senior Online Marketing Consultant at First Rate replied to my question here, saying that it appears SEOmoz has "no plans to change their data service options"

With the question of "What's the future of SERP Tracking?", a lengthy discussion broke out on the SEO Club of SE Wisconsin's Facebook page.
The article posted on the Digital Always Media Inc. blog, Jim says,
"The announcement from Raven Tools earlier today marks one of the last major milestones in the transition of the industry. The old way of reporting results is now effectively dead. Google has made it clear that serious analytic companies will no longer be able to provide ranking reports using data scraped from Google by query-bots. Keyword Ranking Reporting will be yesterday's news within the next twelve hours. It's a natural maturation but it's a big one. One which bears marking."
In response, one Wisconsin-based SEO, David, says,
"I am so tired of these articles. Because Raven is dropping rank tracking, it has NO impact on SEO or the future of SEO or the "maturation point… I've been doing SEO for 10 years, every year it was always something new to be the "death of seo" or some variation."
Although David is in a similar situation as the rest of us, he doesn't seem as concerned. He states,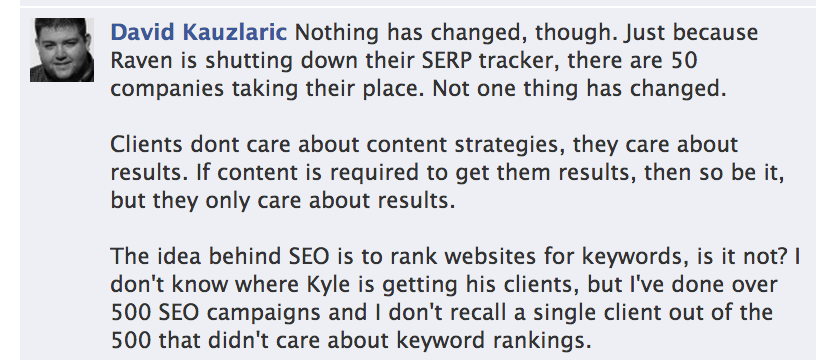 "Nothing has changed, though. Just because Raven is shutting down their SERP tracker, there are 50 companies taking their place. Not one thing has changed.  Clients dont care about content strategies, they care about results. If content is required to get them results, then so be it, but they only care about results. The idea behind SEO is to rank websites for keywords, is it not? I don't know where [edited: person] is getting his clients, but I've done over 500 SEO campaigns and I don't recall a single client out of the 500 that didn't care about keyword rankings."
Another Milwaukee area SEO, Mike, says,
"I think my life is over…I rely on SERP reports from Raven because…well 1) it's our contracts and 2) IMO, it's a good indicator if your making progress… And moving a ton of customer reporting to a new service scares me, lol."
This brings up an interesting question in my mind. Should we ask Raven Tools for a discount on our subscription fee since their tool will no longer do what we signed up for it to do? I agree with Mike in thinking that moving over so many clients to a new rank tracking tools and recreating all of those reports is scary. But, should we even bother going out and looking for a new SERP tracking tool? Are Internet marketers ready to give it up and switch to CRM banking?? Are our clients going to be upset when their SEO company can't or won't provide them with this data any more?
Another fellow Internet marketer has a different stance. He says,
"As far as rankings go, we've always pushed our clients away from those as numbers to follow, so dropping that as a metric doesn't hurt us and our reporting at all… Does suck though overall given that it's been a cornerstone of the product… It will be interesting to see how SEOmoz is affected depending on their integration and data sources."
"…what if reporting on rankings wasn't business as usual? I think it's an easy 'sell' to say that it's highly important and should be focused on, but it doesn't really provide the most value. I don't (personally) believe that rankings are largely important and educate our clients that way. I think this is a problem mostly for those that did make it a highly important success metric, which yes, it is going to suck for them…"
So, what's the future of SERP Tracking? Damned if I know! Tell me your thoughts?